Get 45% customer reach on average
Better customer engagement and response. Make use of your customer profile and area of interest to showcase important messages or advertisements within your application.No opt in or consent required. Display highly customized text, image or video irrespective of the mobile phone. Avoid regular updates of your application on the App stores.
In App message samples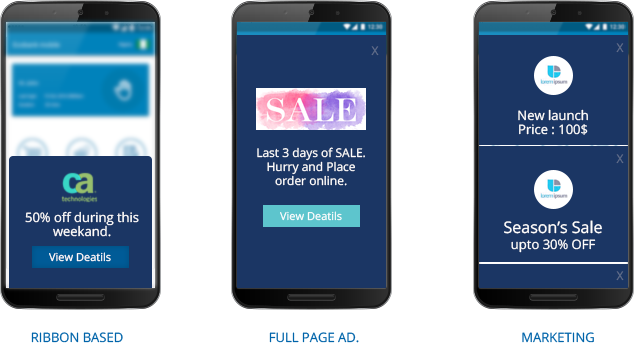 ---
IN APP MESSAGING
---
USE CASES
Welcome/Onboarding: Educate customers about the various features of the App when they run the application for the first time or visits after a period of time.

Updates to Features: Whenever a feature is introduced or changes are done to the functionality of the App, walk the customer through the details.For updates to existing sections, these messages can be displayed when the user visits the specific sections.

Cross Selling: Use In App messaging to cross sell other services when the user is browsing through your App for services or products

Promotional Messages: Communicate latest promotions that are customized to customer interest.

Transactional Messages: Communicate with customer about their recent transactions, purchases or service status.For loyalty-based customers send regular updates about their account status, point accumulation and redemption details.

Reminder: When the customer is within the application, remind them about sections or features they have not used for a while, using of a voucher code that will be expiring soon, or informing them about an offer on a product they were checking before.