"Personalization happens when a marketer or salesperson can take a piece of content and make it more useful for a specific prospect or customer" says John Jantsch, author, speaker and marketing consultant. This statement stands true for any type of medium that is used for marketing.
The SMS Marketing channel, which was highly popular in the 90s and early 2000, is still popular contrary to what many people may think, but none the less is now getting a fresh breath. In 2020, we expect a considerable increase in the usage of SMS in various communications other than marketing purposes (bulk SMS), such as sending on demand and personalized messages. As per Gartner's Digital Channel Survey, it is estimated that 49 million people in the USA will opt-in to receive SMS based marketing messages – more than 50% jump compared to 2018. The ratio is expected to be higher in the Middle East as most of the customer communications are still done through SMS.
Ever since WhatsApp, Viber, Facebook, Instagram and other social platforms changed the way individuals communicate, the usage of person to person (P2P) SMS is infinitesimal. However, in the last few years, businesses have started utilizing this media for sending messages (A2P) and every year the volumes have been increasing multifold. One may wonder why many companies in the Middle East use SMS to reach their customers. Few reasons among the many include better reach, higher ROI, measurability and customer awareness. The graph below highlights the growth of the SMS business since 2017, with a prediction to touch double the figure by 2022.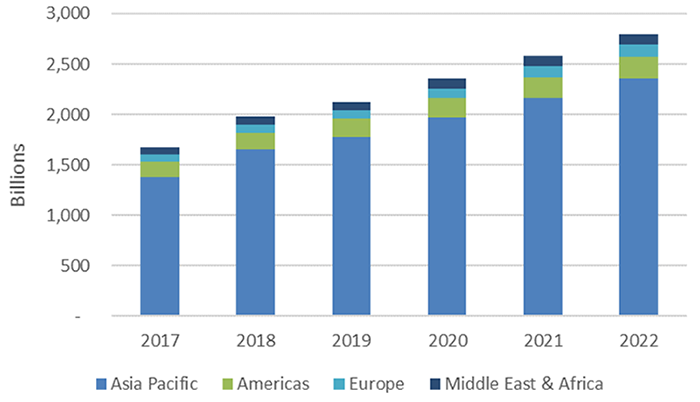 By far, SMS has the highest reach worldwide, compared to any other Digital or Offline media. This combined with reliability, safety, and no dependency on internet, makes SMS the preferred channel for businesses to communicate to its customers. As per data available from 2019, reach for SMS is more than double compared to Facebook, that claims to have the highest user base in the world. The reason for this is that any individual with a mobile connection can be reached through SMS, whereas for social platforms they have to explicitly register.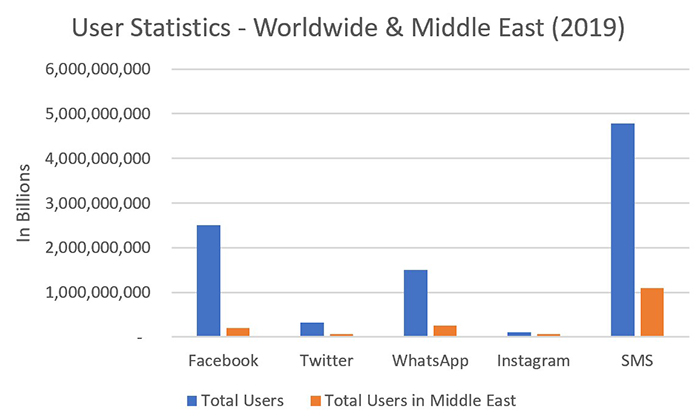 In the Middle East, SMS is highly used for marketing purposes to inform customers about offers and promotions. The trend is expected to change in 2020 and the top 5 to look out for are:
1. Real time updates
Today, we are creating more data than ever before, with 90% or more generated in the last 3 years. With the growth in data comes the immediacy for information availability – both by enterprises and consumers alike. For consumers, information that needs to be available includes banking transactions, E-commerce orders, instant updates from IOT & security devices, alerts from logistics companies, OTP messages, etc. to name a few. Availability of information on the go and in real time is the key to any successful communication. No other platform can achieve this as accurately as SMS. Any mobile phone with a working number will be able to receive SMS at any corner of the world, irrespective of whether the person is connected to the internet or not.
Upsurge in security threats on software applications and personal information lead many businesses to adapt higher security measures in providing access to its customers. This includes Two Factor Authentication (2FA), OTP based verification and alerts whenever irregularities are observed. As the conventional brick and mortar businesses are diversifying into the online space, the need for real time updates (instant messaging) is on the rise.
Some of the industries that will necessitate SMS in 2020 for real time communication are:
E-Commerce
Banking
Exchange Houses
Loyalty Systems
Access Economy applications
Service and delivery industries

The shift in trend towards digital highlights more customers in the Middle East depending on online platforms and services. These industries are hence required to implement proper measures to identify the customer as well as inform them in real time. As an example, E-Commerce websites will use SMS during one or more of the following scenarios:
To verify the customer by sending OTP at the time of registration
A thank you message when placing an order
Notification when the goods are dispatched
Notification when their delivery is done
These instant messages will be more critical in the day to day life of consumers that companies are forced to use SMS messaging as one of the mandatory communication channels.
2. Conversion tracking

Conversion rate is hands-down the most important metric in any SMS & digital marketing communication. Every marketing activity you do is designed to convert visitors to your store or website into paying customers for your business, and conversion rates (usually measured as ROI) don't just include sales. They also include customers who make appointments, fill out contact forms, contact you, and request free quotes also are counted as conversions. Any action by the customer that brings them closer to your business is a conversion!
Why Conversions matter? Would you rather get more customers from increasing your marketing budget or optimizing your advertising approach? Optimizing for better conversion rates means more returns (ROI) for lesser spend. These also:
Predict success or failure of a campaign
Help in measuring ROI
Help in future campaign planning
Provide personalized content
How to Track Conversions in SMS Marketing? Precise Messaging platform provides the ability to track conversions using Bright Links. Apart from getting reports on who is clicking on the link, Bright Links will allow you to customize the link to each customer and also provide the type of phone and geographical location of your customer.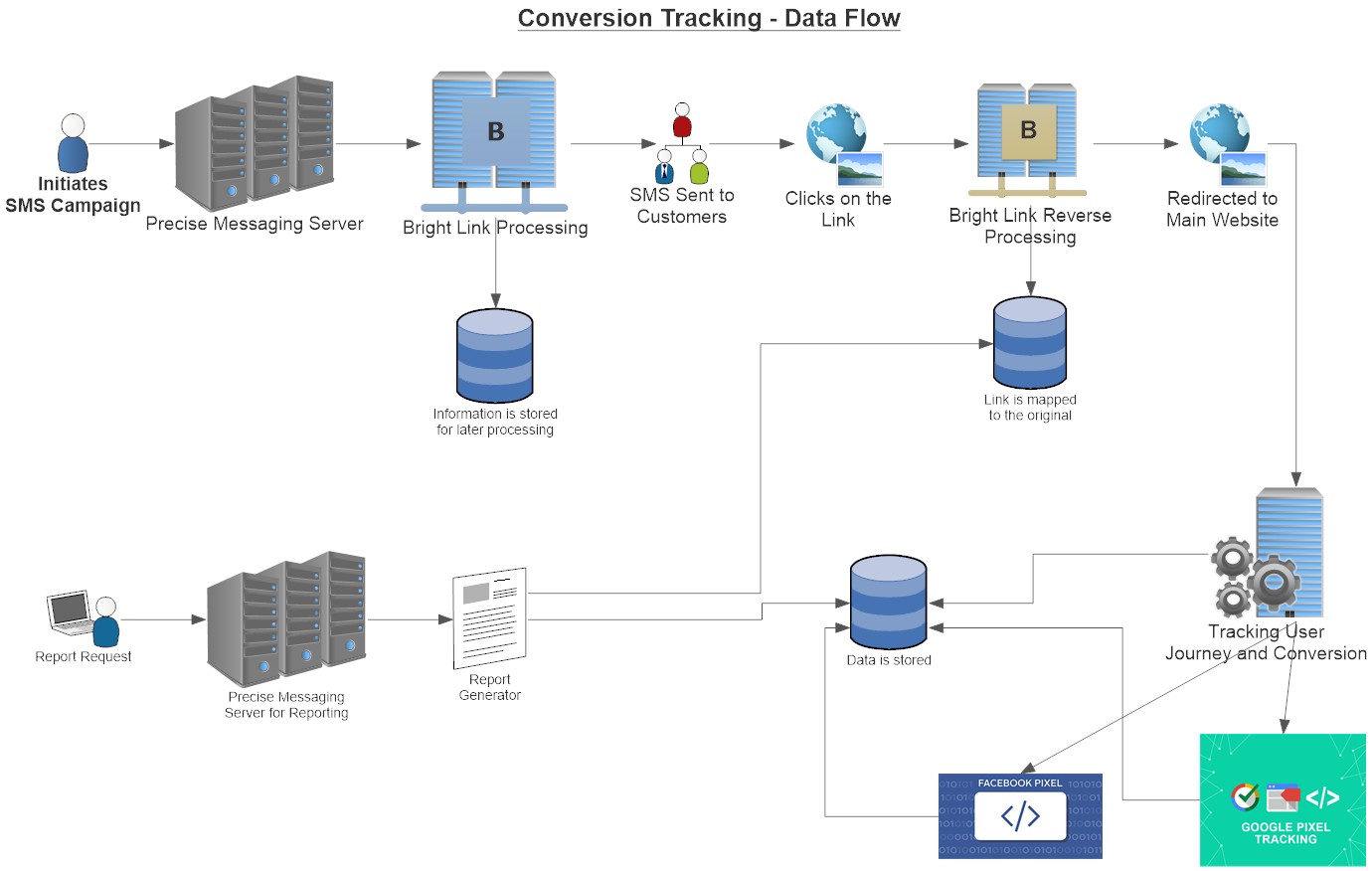 Measuring conversions including customer clicking the links, their journey through the website, their interaction with the products, their purchase or visiting the store is one of the key improvements in SMS Marketing (Bulk SMS Service) that will be used by businesses in 2020. As marketers count every penny that is spent, providing detailed information for measuring conversions will be critical. Another important aspect would be when different digital marketing activities can be clubbed to maximize returns.
3. Progressive Web Apps (PWA)
PWA technology has been around for just a few years, but has been very limited due to the awareness and resource availability. PWA is similar to standard HTML based website, that works as a mobile application with the ability to work offline. It is intended to work on any platform that has a standard web browser. It enables creating user experiences similar to Mobile native applications, but without the need to download or install any application.
It is important that your customers get information as immediately as possible, or else we lose their attention which may lead to losing them forever. When using URL links within SMS, majority of the customers do click on the link, but if the waiting period is long, they tend to lose interest and move on. A recent survey shows that 3 seconds is how long it takes for your visitors to get impatient and leave your website.
57% of visitors leave the site if the page takes more than 3 seconds to load
80% of these do not come back to visit the website
Almost half of them communicate to their friends about the negative experience
When planning campaigns, it is important to create PWA of the information or forms that you intend to showcase to your customers. These PWA based contents are immediately loaded as a mobile application on the customer's phone when they click on the link from the message. This helps in providing the contents immediately and retaining their attention. Once the customer is interested in the details or the offer, they can then be redirected to the respective website to provide more information.
Compatibility and issues with legacy devices will be negligible considering the new devices that are used by customers. PWA's cannot replace mobile applications, but fills a gap between Mobile Application and Websites.
4. Personalized Content
Dale Carnegie once said that "a person's name is to that person the sweetest and most important sound in any language" Research shows that a personalized communication (Email and SMS) received 29% higher open rates and 41% higher click through rates. The reason for this is explained in a study by Brain Research, where it states that when people hear their own name, there is a unique reaction in the brain.
What is Personalization? Personalized marketing is a strategy by which companies leverage data analysis and digital technology to deliver customized messages and product offerings to current or prospective customers. Personalization essentially means interacting with a customer in a way that makes them feel that their interests are being taken into account.
In 2020, more marketers will be aiming to achieve "quality" over "quantity" by the use of data analysis and personalizing their marketing plans. Gone are those days where marketing campaigns are targeted to general public or even based on geographical locations. Combined with Predictive analysis, marketers are able to identify the exact behavior or a customer and reach them at the right time when they are looking for a service or a product.
Most companies are in abundance of data that is originated from various sources – from the first-time a customer registers, to the last time they have visited the store or website. With data mining experts this data will then be converted to useful information, which is further used for predictive analysis. Using the latest technology and Artificial Intelligence (AI), the informative data is then grouped and used for marketing campaigns. Not only can you address the person by their name, but also recommend what their next purchases can be. The magic word here is "Right Person, Right Message at the Right Time".
Some of the use cases include:
Automobile Industry: Sending service reminders through SMS based on the past service history. This increases the chances of immediate booking.
E-Commerce: Based on customer purchase or usage behavior in the store or online, sending personalized SMS recommending a new product that matches their interest or providing discount to products that they have not purchased for a period of time.
Restaurants: Reaching to the customer through SMS and offering a discount or recommending similar dishes based on their past orders. Sending this based on their pattern of visit or ordering will increase the chances of them visiting the same restaurant rather than trying a new place.
Fashion Industry: Utilizing the Loyalty system, customer behavior data and predictive analysis, send customized SMS recommending new products by offering discounts or recommending them to utilize their pending Loyalty points. Chances of customer visiting the same store is much higher when these personalized messages are delivered
Hotels: Sending early bird options to customers before holiday seasons will increase the conversion rate compared to normal marketing activities
All the leading social platforms already provide these personalized advertising platforms that will be extended to SMS and Email in 2020. You may not reach the mass with personalized approach, but few of the benefits are:
Improved Customer Experience
Increase in revenue
Increase in Customer retention
Increase in brand loyalty
Reduction in marketing cost

5. 2-way communication
Since the beginning of 2020, we have observed a spike in enterprises opting for short codes in order to enable two-way communication with customers. Enabling 2-way communication when sending Transactional or Marketing SMS allows enterprises to get immediate reply from their customers or collect data in real time rather than waiting for email replies. 2-way communication also allows customers to initiate a communication to request for information and updates.
The most common usage is in conducting surveys by sending a short message to the customer – after their purchase or visit to your store. The SMS replies received from customers can be integrated to back end platforms for further processing.
Two-way short codes are also used for subscription services to provide regular updates without the need for raising a request every time. Here customers opt in to receive regular content updates (Latest News, Exchange rates, prayer timing, etc.) by agreeing to pay a fixed fee daily or weekly.
Some of the use cases of 2-way SMS are:
A Jewelry Store providing latest Gold Rates when customers sends a particular code to a specific number. The SMS is received on Precise SM Server and based on the code is directed to Client's backend system which will provide the latest Gold rate back. The details are then delivered as an SMS to the end customer
An E-Commerce store sending Survey based SMS to customer after a successful order is placed. The Survey requests the customer to reply with a rating based on their satisfaction of using the service. The same E-Commerce also provides customers the ability toenqure about their order status by initiating a simple SMS.
Event Management companies use 2-way communication for RSVPs where visitors are requested to send YES or NO to confirm their participation
News Papers offering latest updates through SMS to all customers who have subscribed for the service. Customers will get the latest updates based on their preference on their phone with the link to read the details.
Retailers using the 2-way SMS service to get consent from customers for subscribing to newsletters or WhatsApp messaging. Apart from sending their consent, customers will also share their details like Name, email address, Location, etc.
Precise Messaging team is well equipped with these latest technologies and the team will be more than happy to walk you through the systems that are readily available. With the existing APIs, you can start using any of the above services immediately. Speak to one of our team member to know more.
Recent Articles