"This year, the business market for virtual assistants — a.k.a. chatbots — will grow 15 percent to more than $7 billion, according to a Gartner prediction" – New York Times
A customer need is a need that motivates a customer to purchase a product or service. The need can be known or unknown and is the ultimate factor that determines which solution the customer purchases. During this process, the Business must be available to communicate to the customer based on where they are.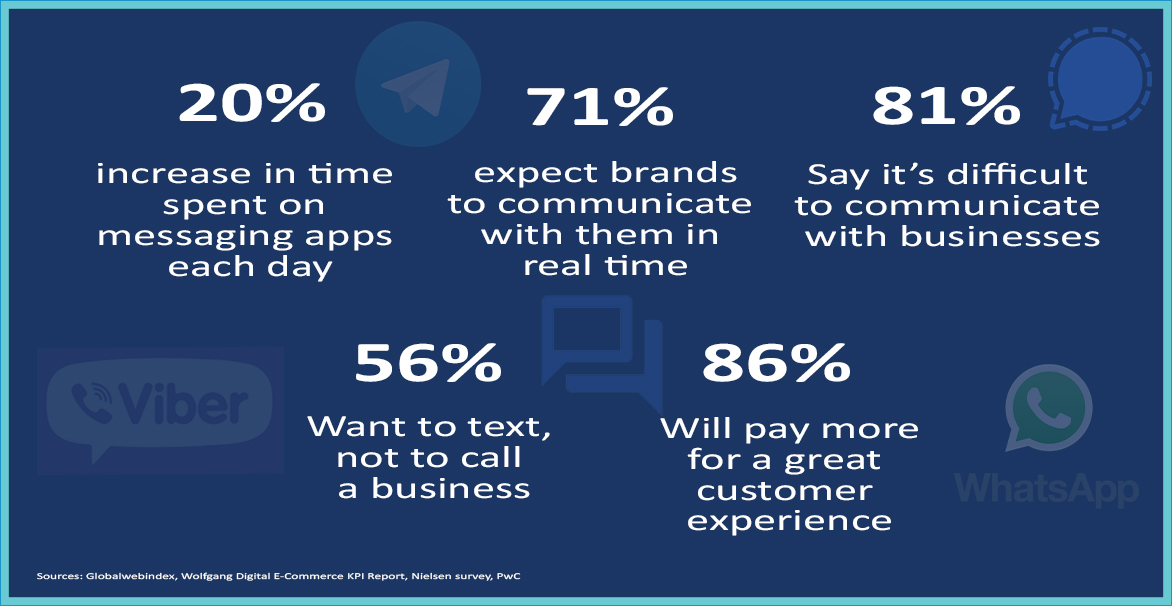 As the Statistics point out, customers spend more time and prefer communications with the brands on Social Messaging Apps. Is your brand still waiting for calls or visits from customers to enquire about your products or services? Or are your existing customers still sending those emails and waiting for days to get responses back?
In the last couple of years, Social Messaging Apps like WhatsApp, Facebook Messenger, Viber, Telegram, Signal, and WeChat have surged in popularity among consumers who prefer to communicate with the brands in real time. Usage of Social Messaging platforms has surpassed Social platforms like Facebook and Instagram. According to a Gartner report, more than 60% of customer service engagements will be delivered via digital and self-serve (chatbots) channels.
As per the current statistics, active users on these Messaging Platforms are*:
WhatsApp: 2 Billion
Facebook Messenger: 1.3 Billion
WeChat: 1.26 Billion
Viber: 820 Million
Telegram: 400 Million
Signal: 40 Million
How to Add Social Messaging to Your Business?
Social Messaging platforms will not replace websites or mobile applications, rather they will be an extension of your customer service offerings. The vast majority of the population is now connected through one or more of these platforms. Be it emergency updates, rumors, or sharing of jokes, Social Messaging Apps are the preferred channel used.
"Customer Conversion is dependent on the right Customer Conversation" – Rasheed Ogunlaru
To improve customer engagement and their service needs, a business can adopt one or more of the below options through Social Messaging Apps:
Providing an extended customer service platform by allowing the support team to communicate with the consumers
To obtain information like Product Prices, Exchange Rates, Flight timings, etc
Order for products/services, make payment and track status
To provide a location (Coordinates) for delivery or pickup
2-way communications using Chatbot
Provide a platform for carrying out transactions (Bank transfers, Parking ticket payments, etc)
Registration for accounts or events
Sharing of documents (tickets, boarding passes, invoices, etc)
And the best part is that you do not need to develop anything in-house to avail these services. We can connect to your existing systems or customer support platforms and extend the same service onto the required Messaging platforms, with very minimal integrations.
Be where your customer is!
According to Gartner, more than 65% of the companies now are competing primarily based on Customer Experience, which is up from 35% in 2010. One of the best approaches to creating a better customer experience is to connect with them from the platforms they are available.
Improve customer experience and engagement by offering services where they are regularly available – Social media, social messaging apps, and other digital channels. They prefer getting answers immediately and do not have the patience to wait for phone calls or emails.
Be More Personal
Customers prefer "Personalized Communications" when they are dealing with the brands. Understand where they are more active and send communications for better conversions. Integrate your Customer Relationship Management (CRM) platform to Precise's Messaging platform and send personalized communications.
The advantage of Social Messaging platforms is that you can easily identify your customer and provide their specific information. For example, a customer initiating a chat can immediately receive their outstanding balance or loyalty points with the options to redeem them. They will not be required to log in into any system to know these details.
Better Customer Care
Apart from your call center or backend support team, extend the customer care service to any social media channels or messaging apps. Route all customer queries into one backend platform and respond instantaneously. This will reduce customer frustration in case they are raising any complaints. The system can be automated to provide information related to products or services to customers who enquire about the same, thus increasing the conversion rates. Updates from the brand to a customer can also be routed to multiple channels thus ensuring the message is well received.
Chatbots
Once done manually, Business chats are now being automated with advanced Artificial Intelligence (AI) Technologies and Machine Learning (ML). Machines are trained to understand customer queries, connect to your backend system to retrieve relevant information, and communicate with the customer in real time.
Connect to your existing Chatbot or Precise will help you build your own by defining the entire workflow and logic. API integrations, as well as customer journey, will be part of the Chatbot solution.
As per research, it is expected that 70% or more customers will prefer messaging businesses in the future. Isn't it time that your business is also socially active on these platforms? Speak to us for an integrated Messaging solution.
* Source: Google
Recent Articles