In United Arab Emirates (UAE), there are two major telcos (operators) – Etisalat and DU – and 2 Mobile Virtual Network Operator (MVNO) – Virgin Mobile and Swyp. Base network for Virgin Mobile is DU whereas for Swyp it is Etisalat.
Etisalat and DU provides direct connectivity for A2P SMS messaging to UAE with the ability for terminating SMS On-Net and Off-Net, without additional charges. This allows SMS Aggregators to avail the service from any one of the operator and terminate SMS to any mobile numbers in UAE. Apart from the Local (Enterprise) connectivity, both the operators offer A2P messaging service to International aggregators through the International Hub. Even though there is no difference in terminating the messages to end customer, International Hub have its own advantages to provide lower cost to end clients.
This advantage lead many brands to avail the service directly from International aggregators who were able to offer rates lower than the buying price that was offered to Local Aggregators (like Precise Communications). Apart from the pricing, the sender name registration process was simpler that lead to many brands shifting their traffic from Local vendors to International Vendors. Even some of the local Vendors started using these International Aggregators to get lower rates.
Starting from 1st February 2022, Etisalat and DU has introduced higher pricing (as high as 5 times) for all SMS terminated through their International Hub for all types of SMS – Local or International brands. At the same time, there has been no change in pricing for the Local Direct Route (Enterprise connection), which means brands can now avail better quality routes at lower rates.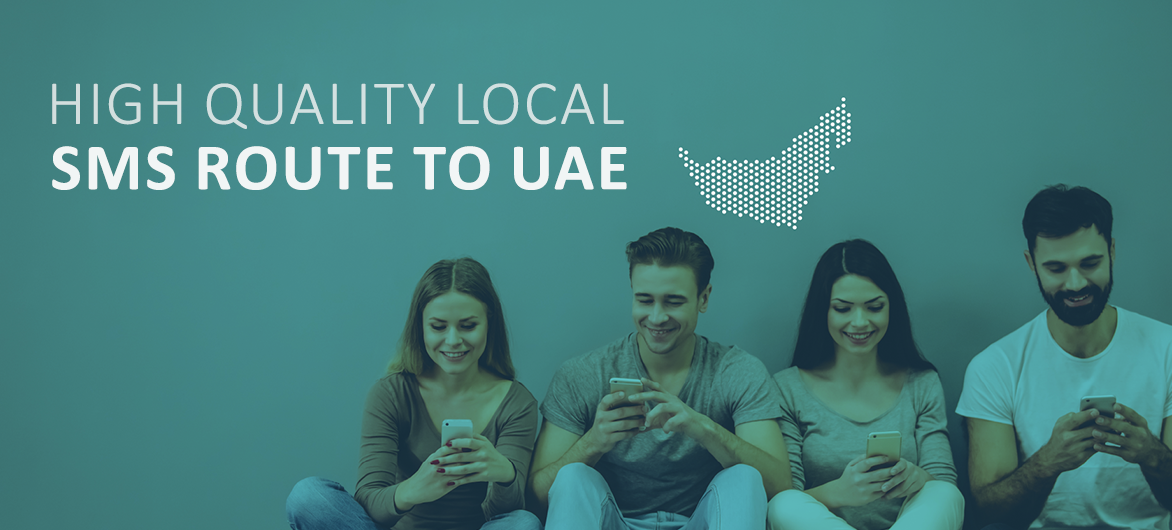 So why use the Direct Local Route?
Rate being one of the main advantages, some of the other benefits include:
Data Security: Your data is not shared with multiple aggregators with whom you have not signed any agreement. To get lower rates, some of the vendors might depend on multiple International aggregators that are located outside UAE and your data is shared with all. With Local vendors, your data is secure within UAE and shared directly with the operator. There will be no third party involved other than the vendor and the telcos. Your agreement will be directly with the local UAE vendor.
Handset delivery reports (DLR): All your SMS are forwarded as is to the operators without any filtering or number lookup. This means that the delivery report you receive will be more accurate and directly from the mobile handset and/or the operator. This in turn increases your responses to marketing campaigns.
Fast Delivery: With the Enterprise connectivity, there are multiple short codes (shared or dedicated) that are allocated to your account for each sender name. Hence your high priority (OTP) messages are not affected with other messages or marketing campaigns.
Higher Throughput (TPS): For marketing campaigns with large volumes, we can obtain multiple routes (short codes) to submit SMS with higher TPS (Throughput per second). Marketing campaigns planned at the last moment can be still executed before the cut off time of 9 PM with the ability to route larger batches in a shorter time period.
Better Accountability: Since the connections are direct and there is dedicated support team from the operators, any issue in delivery can be traced and the exact reason can be produced. In case of any errors, it is either with the Local vendor or the operator, unlike multiple vendors if International routes are used. In case of messages not getting delivered, Local vendors will be able to raise the concern immediately with the operator and get immediate response.
Follows UAE Rules and Regulations: As a registered entity in UAE, all Local vendors are required to strictly follow the rules and regulations of the Government, Telecommunications Regulatory Authority (TDRA) and the operators. This in turn assures that your brand names as well as messages are processed accordingly and avoids any complaints or fines. Your brand names (sender names) will be secure and can only be used from your side. Any changes in rules are immediately communicated to the brands.
Local Support: With Local connectivity and vendor, you also get support from the team who are within UAE. Support teams are a phone call away that ensures that there are no delays in getting responses or to execute your SMS campaigns.
Latest Updates: As a local provider with long terms relations with the Operators in the UAE, we are able to get firsthand information regarding any new updates which will help you be prepared for any such instances as we will guide you through these processes.
How to get the SMS Service for UAE?
Without any geographical time difference and for secure and quality based service, we always recommend you use partners who are present in UAE. With Precise Communications, you will have all these benefits with additional routing facility for other destinations. Speak to one of our dedicated representative to get your test account FOC.
All you need is:
Share your requirement and agree on the rates
Test our platform before signing the agreements
Sign the agreement and payment terms
Provide necessary letters (NOC) for sender name registrations
Go Live using SMPP or API or Mobile SDK connectivity
Recent Articles