Telecommunications Regulatory Authority (TRA) of UAE rolled out a set of new rules and regulations (anti-spam policy) related to SMS messaging from 3rd November 2020. This involves important and mandatory process, especially when it comes to sending Promotional/Marketing SMS (Bulk SMS). This article will cover a summary of the new rules and regulations and also the upcoming process that will be implemented by the operators. We will also cover about OCAMA, a platform developed by Precise team to help companies manage customer consents and providing access to end consumers to update their preferences.
4 Important Aspects Of The New Rule
Even though many of the points listed in the new document is the same since 2009, TRA has insisted both the operators, SMS aggregators and companies (brands) to strictly adhere to these rules & regulations, failing which SMS may get blocked or hefty fines imposed directly on the violators. Most of the points are related to promotional messages with the top 4 as listed below:
Sender name update with "AD-" prefix
Using Consent database
Ability to opt out (unsubscribe)
Promotional message cut off time
Before we have a closer look at each of these important notes, let us review how we can classify a message as promotional or transactional.
Promotional Vs Transactional Messages
One of the most challenging aspect when it comes to segregating the traffic and routing using the appropriate channels and sender names is in identifying Promotional (marketing) messages from that of transactional (non promotional) messages. Precise SMS Gateway is now equipped with Machine Learning technology to differentiate the messages and make necessary adjustments to the routing and sender names. It is advised to segregate the messages during submission stage to avoid any violations, in case the Precise SMS Gateway is not able to classify the messages appropriately.
Promotional Messages
Transactional Messages
Any SMS that is sent to the customer offering or advertising to supply goods, services or business opportunity, asking them to download a mobile application, or visiting a website are considered as Promotional messages. Informative messages that are sent in bulk will also be classified as promotional SMS.

In short, any SMS that is not initiated or requested by the customer can be classified as Promotional

Examples of Promotional Messages

Spend AED 200 for a chance to win a Mercedez-Benz G500 and AED 200,000 worth of shopping vouchers from MYBRAND.
Dear Valued Customer, MYBANK is conducting a survey and we value your feedback. Take the survey on http://www.xxxx.com. Thank you.
Today is the last day to attend MyExpo & meet 40+ Uni reps & win iPads! Log in now for free access: bit.ly/ AaD5Db Visit Dusit Thani DXB till 6pm.
We have launched our new Catalogue for 2020. Visit http://www.xxxxx.com to view/download now
We welcome Dr. ABCD, Gynecologist, to our clinic XYZ. For appointments call 04-1234567

Any SMS that is sent to the customer to inform about their transaction or provide details based on their request is considered as Transactional messages. One Time Password (OTP) messages are also considered as Transactional.

Any message that is initiated by the customer by interacting with your business can be classified as Transactional.

Examples of Transactional Messages

Thank you for shopping with us at MYBRAND. Your bill amount is 1850.00 AED. We appreciate your feedback http://bit.ly/AaD5Db
Your OTP for accessing your account is 8956
Thank you for using MYBRAND Rewards. Your current balance as of 05-Oct-2020 is 189.
Your order will be shipped today to 3305, Latifa Tower, Sheikh Zayed Road between 10:00 and 11:00 AM. For any change, please call us on 04-4211688 or visit www.tobeprecise.com
Thank you for making a payment of 4,300 AED online for your Service Charge. We will send you the receipt once the payments are processed.
Here is wishing you a Happy Birthday from ABC.
1. Sender name update with "AD-" prefix
It is mandated that, from 3rd November 2020, all promotional messages (bulk SMS) that are sent to UAE uses sender names that are prefixed with AD- (AD with a hyphen), which indicates the message as an advertising message. All existing sender names, if not already converted, should be updated to have "AD-" prefix, if you require to send Promotional messages. There is no change required for sender names for Transactional messages. This leads to a limitation of 8 characters to mention the brand name, from the previous 11 characters.
Example: Precise becomes AD-Precise, Google becomes AD-Google, Amazon becomes AD-Amazon
What if the sender name is more than 8 characters (example: ToBePrecise)? In such situations, brands have to adjust the sender name to fit within 8 characters so as to meet the 11 character total sender name length, once "AD-" prefix is added.
Example: ToBePrecise becomes AD-Precise, Al Futtaim becomes AD-AFuttaim, Emirates NBD becomes AD-ENBD
Should we register again for the new sender names? Yes. Any change to your existing sender name is considered as a new registration and has to follow the same process as a new registration with the below details.
Separate NOC authorizing Precise to register the sender name for Etisalat and DU
Latest Trade License (company registration) copy
Once the above is submitted, it can take 1 to 3 working days to register the sender name, test and allot to your accounts.
Note:
Above sender name updates are only applicable for Promotional (Marketing) messages. For transactional messages, you can continue using your existing sender name or register new name without AD- prefix
You can download the latest NOC template from Downloads Section or use the Online Form to generate the NOC
Government entities are exempted from this rule
2. Using Consent database
One of the most important rule, which was in force since 2009, and now being enforced for all brands carrying out promotional (marketing) SMS in UAE. The rule states that "Promotional messages are only allowed to those customers who have given their explicit consent". Sending any promotional messages without proper and recorded consent will be a violation that can lead to blocking of the sender name or hefty fines on the brand.
A customer providing their personal details at the time of a transaction is not considered as a consent. A consent is where the customer specifically selects the option to receive future promotional messages – etiher by signing on a printed form or selecting a checkbox on a digital form. Read more about consents management in the article "Customer Consents And Marketing Communications"
When collecting consent, it is important to record the below information digitally and can be produced in a tangible format to the operator or TRA in case of any complaints. These records should be maintained as long as the data set is used for promotional messages. Consent can be collected in the form of paper / physical or electronic, with the exact words of consent clearly mentioned and the ability for the customer to opt in or opt out.
Name of the Mobile user
Mobile Number
Date and Time
Signature of the Mobile User (if on paper, physical or through in-store KIOSKS)
IP Address or Unique Digital ID (if electronic) *
Exact words used to capture the consent
* In situations (example: Facebook data collection form) where the IP address is not available, we can produce the unique ID provided by the platform by way of which we can identify the Mobile User.
3. Ability to opt out (unsubscribe)
Ability for a customer to opt out of promotional messages is as important as getting their consent. Customers should have option to remove their number from future promotional messages without incurring any cost. Method of opt out (unsubscribe) or adding to the Do Not Disturb (DND) list should be clearly mentioned in every message. There are various options that are available that can be included within the message, depending on the message length and requirement.
Toll Free Number: A UAE toll free number where the customer can call and unsubscribe. This could be connected to an IVR or customer service agent can take down the number and update the system directly
Precise provided Short Code: a 4 digit short code (SC) number provided by Precise to which customers can send a keyword or any message to opt out from the particular brand. We configure keywords to identify the sender name or add them to the global DND list. This unsubscribe list is maintained by Precise and future messages are blocked to those numbers automatically. The list will be also available under your account.
Website: A web link with the ability for the customer to provide their number and add to DND list.
Operator provided Short Code: Operators have set up the SC 7726 that can also be used by customers to opt out from all SMS, a particular sender name or from a particular category of messages. For more details about this option read our FAQ on "How does DND (Unsubscribe) list work in UAE?"
Irrespective of the option used, the most important point is that when a customer opts out from receiving promotional messages, the number should be immediately removed from the list for promotional messages. Precise's DND list filtering and Operator SC opt out options are automated and hence immediately removed.
4. Promotional Message Cut Off Time
As per this rule, Promotional messages are only allowed between 7 AM to 9 PM UAE time. It is the responsibility of the brand and SMS aggregators that SMS are not delivered beyond this allotted time. In order to adhere to this rule, Precise SMS Gateway will block any promotional messages (identified using sender names with the prefix AD-) by 9 PM and schedule to be delivered the next day from 7 AM.
Due to the throughput restrictions from operators, it is advised to plan large marketing campaigns to start earlier during the day so that all the messages can be processed before the cut off time. Do speak to your Account Manager in case you need additional bandwidth for larger campaigns. Precise SMS Gateway is capable to push up to 18,000 SMS per minute per sender name.
What if a Customer Complaints?
As per the new guidelines from the operators, in case of any complaint raised by the customer to TRA or to the operator, the brand should submit the proof of consent within 24 hours of receiving the communication. The proof can be:
Scanned copy of the physical consent form signed by the Mobile user
Screen grab of the software that displays Mobile user details and the consent status
Database screen grab of the particular Mobile user's record with all the relevant information
Excel file with all the relevant information
Consent details should include all details that are collected as part of the consent form as explained above. Any missing information may be considered as violation of the rule.
Mobile number of the complainant should be immediately added to the Unsubscribe (DND) list. It is not allowed to call or text the customer related to the complaint.
Upcoming process from Operators
In order to streamline and standardize how sender names and messages are processed, operators are working on a unified platform that will reduce human errors while implementing the new rules and regulations. In the proposed system, brands will be required to register directly with one of the operators and submit all details related to sender name(s) and consent database. The unified Block Chain based system is under development and testing when this article is being written and will enforce the below 3 additional steps in carrying out promotional messages.
Note: Below information are provided as received from the operators and the final process may vary once the system is rolled out. Precise team will provide all the necessary support and guidance on using the new platform.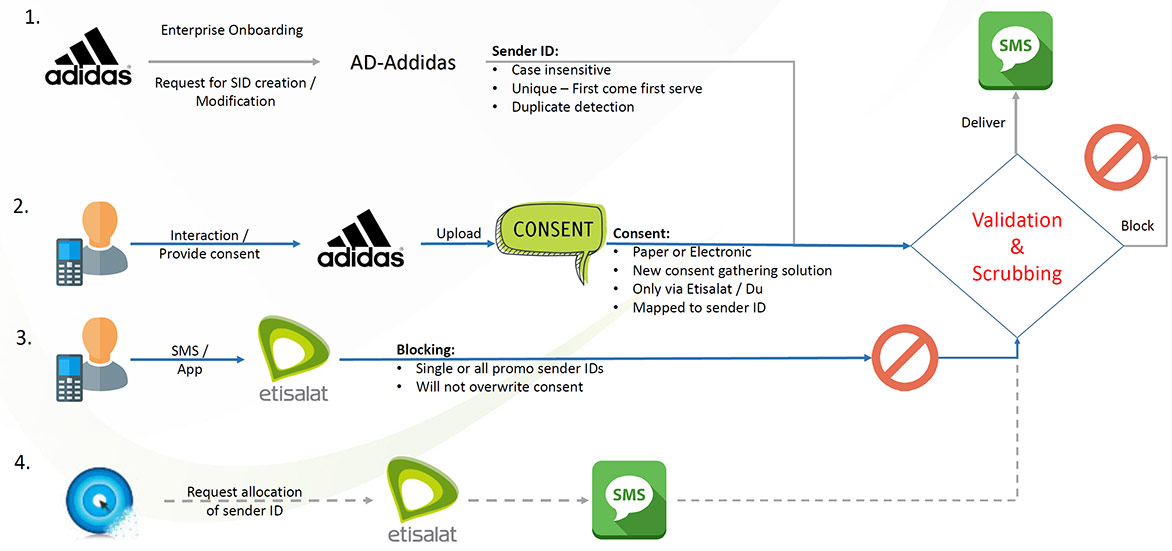 1. Sender Name (Sender ID) Registration
Once the account is setup by the brand with one of the operators, relevant documents are to be submitted and all sender name(s) required are to be re-registered. Once a sender name is registered, the brand can provide authorization to any aggregator (SMS Provider) to use from their platform. This process will make sure that:
Only one company can register a Sender Name. Once registered, the same sender name cannot be registered by any other brand. Sender names are provided on first come basis, ensuring that the brand name is not misused by any others
Only one variation of the sender name is possible. As an example, system will not allow to register "MY BRAND" and "MYBRAND"
Sender names are case insensitive
Generic sender names are not allowed, thus ensuring that customers can trust on messages that they receive from the brands
2. Consent database uploading
Once the system is in place, all promotional messages will only be processed by the operators if the customer consent database is uploaded prior to the SMS broadcast. Brands are required to upload all customer database (consent information that includes the information mentioned earlier) to the platform manually or using APIs that will be provided. Precise team will extend support in managing this upload process or integrating the API to your existing platforms from OCAMA platform.
All promotional SMS that are submitted prior to uploading the consent database will be blocked by the operator and will be charged as normal.
A typical workflow of the consent database upload process is shown below.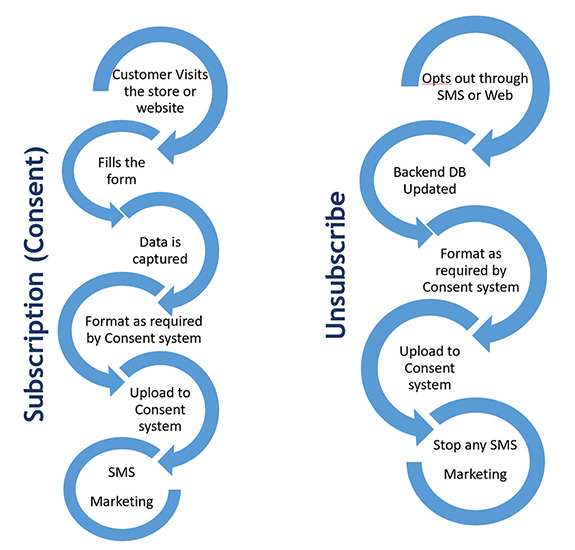 3. Classifying Sender Names
All sender names, at the time of registration, should be classified into one of the 7 categories. This classification is being implemented so that customers can opt out from one of the categories through operators Short Code unsubscribe mechanism.
Banking and Financial Services
Educational Services
Health Services
Government Services
Retail Services
Real Estate Services
Tourism Services
OCAMA Platform
In order to support our clients to migrate to the new process and to manage customer consents in a central location, Precise has launched a cloud based platform OCAMA – Oxygen Customer Access & Marketing Automation. OCAMA is a solution that allows businesses to centrally control and manage their customer data without the need to update existing applications or work flows. Some of the key features of our cloud based system includes:
Customer consent management
Multiple form builders to capture data across devices
Scalable to external platforms such as CRM, ERP and TRA's systems
Empowers customers to edit and manage their own preferences
Customize and build communications such as SMS and Emails
To know more about OCAMA platform or to get more details on the new TRA rules, please speak to one of our team members.
Note: Access the full TRA rules and regulations here. This article only highlights the important parts from the document.
Recent Articles