"This will be the huge shift going forward, which is that everybody wants systems that are smarter, everybody wants systems that are more predictive, everybody wants everything scored, everybody wants to understand what's the next best offer, next best opportunity, how to make things a little bit more efficient." – Marc Benioff, CEO of SalesForce.
It is a known fact that data is one of the most important aspect of marketing, especially when it is customer information. Can the past data be used to predict the future customer behavior? Can we combine different data sets to predict and cross sell? How accurate are these predictions?
With the help of Data Science and Predictive Marketing, already in use by Industry Giants, it is very much possible to reach your customers at the right time when they are in need of your service or products. Predictive Marketing will be the future trend adopted by Medium and Large industries for reaching out to customers using various marketing technologies currently available – Bulk SMS, Email, Digital and Social Platforms.

Data and Data Science
Any piece of information, collected and stored in Digital or Physical form, that can be used for reference or analysis purpose is Data.
These includes, but not limited to:
Customer information – registration at store or online
Website visits and purchases
Customer purchase details
Chats
2-way SMS communication from customers
Medical & Scientific research information
Daily weather reports
Books, articles, speeches, thesis, any many more
Data can be stored or obtained from different media like Relational database, Non-relational database, Excel files, Folders, IoT (Internet of Things) devices, etc. Many of us pay less attention to the enormous data that are available which can be utilized for improving the marketing activities. Rather we mainly focus on the customer information with their purchase details and target them based on individual behavior. For example, Susan bought a gift card in May last year and there is a possibility that he will buy for this year also. This is based on assumption and losing a full year without understanding what other products Susan could have bought, had the communication has reached her on time.
Data Science is the process of using data to find solutions or to predict outcomes for a problem statement. It is an inter-disciplinary field that uses scientific methods, processes, algorithms and systems to extract knowledge and insights from many structural and unstructured data. The field encompasses analysis, preparing data for analysis, and presenting findings to inform high-level decisions in an organization. As such, it incorporates skills from computer science, mathematics, statistics, information visualization, graphic design, and business. Data science is also about focusing on creating clear understanding among messy and disparate data.
Data scientists follow 6 step process in order to reach a solution for the problem in hand. Data scientists are analytical experts who utilize their skills in both technology and social science to find trends and manage data. They use industry knowledge, contextual understanding, skepticism of existing assumptions – to uncover solutions to business challenges.

Evolution of Marketing (Advertisement)
In the last few decades, advertising has evolved to the extend that companies are spoilt with choices and consumers are bombarded with non-relevant ads. Advertisements on social platforms, TV channels, Radio Channels and even SMS Marketing from various brands, creates a negative impact and raises confusion for the consumer, which eventually leads them to start ignoring them.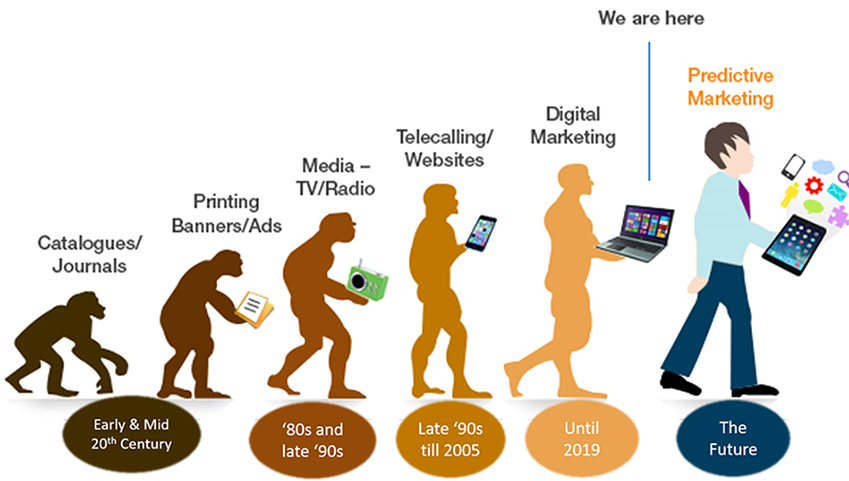 The attention span of a customer on Digital Media is only 3 to 5 seconds and if your marketing strategy is not well defined to grab your customer attention within these 5 seconds, then you may lose them to your competitor. For Bulk SMS, the open rates are higher than 95%, but many tend to delete the message the moment they realize it is not of their interest! How do we then make sure to reach the right audience and increase the conversion?
Predictive Marketing
In simple terms, Predict Marketing means a marketing technique that uses Data Analysis (Data Science) of existing data and determining what type of marketing strategies to be done for different customer group. In other words, Predictive Marketing is the way in which businesses can know what exactly a customer will be interested in or purchasing in the near future and accordingly reach them at the right time and through the right media!
The Benefits
Empower to conduct more accurate forecasting, by avoiding guess work
Ability to adjust the logic and roll out faster
Less wastage of marketing budget
Increased Revenue and ROI
Improve customer engagement
Preparedness for demands
And best of all, you have a clean and meaningful customer data that can be utilized for various other purposes
Compared to the standard Predictive analysis, where only a selected set of data is used, Predictive Marketing is dependent on a larger set of data, including various customer groups. Different and large sets of data are used for analyzing the past behavior of similar customer groups and predicting their future behavior. Customers are then grouped based on the analysis and their behavior which is then used to target them with customized content through different platforms – Email Marketing, SMS Marketing, Digital Media, Social Platforms, etc. Selection of the platform is also based on the prediction that will help us in identifying which platform will perform for the selected groups.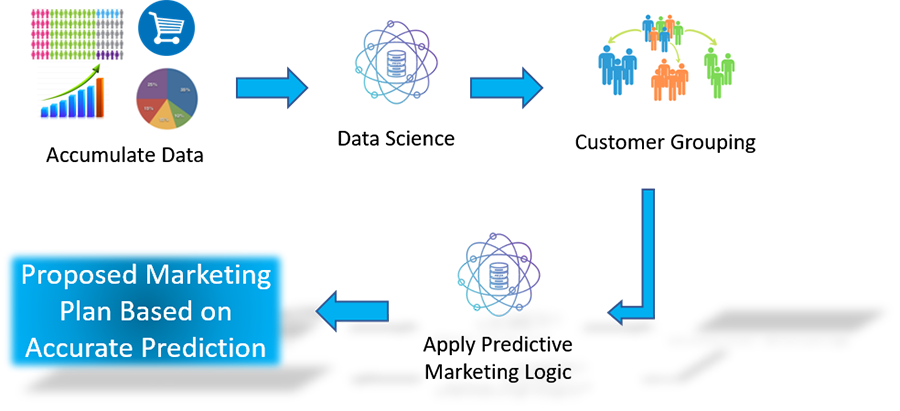 Role of SMS Marketing
Once data science is applied and you have made your model for the customer group, the results will help in predicting the behavior of existing or potential customers. Rather than doing a blanket approach in reaching all customers, Predictive Marketing will help in grouping customers based on the analysis and identifying which particular customer group have a higher chance of buying a product or service in the near future and customize the campaign to reach this group.
Considering the high open rate that can be achieved with SMS, if customers are targeted with personalized message based on the predicted analysis, the conversion will be much higher compared to any other platform. Bulk SMS is one of the most preferred channel for Predictive Marketing followed by Email and Digital Marketing.
Along with personalized message, using Bright Links within the message will help in tracking the conversion rate and eventually identify which customer group is reacting better to Predictive Marketing. This will further help in fine tuning the data analysis that was done and readjust the models.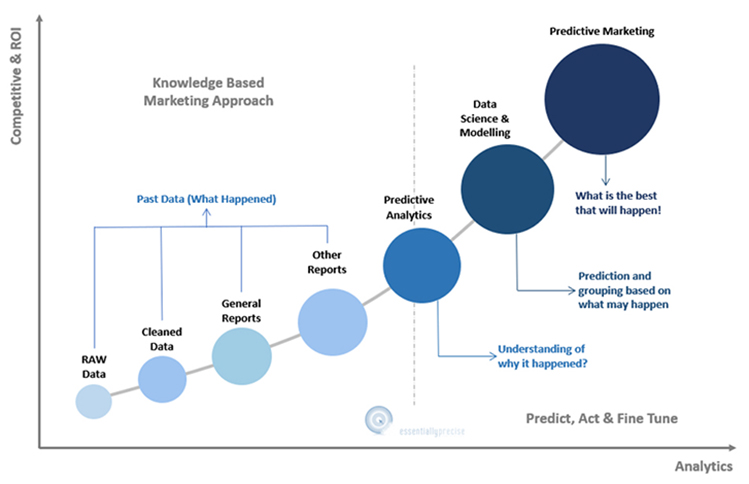 Use Case 1 – Online Store
Predictive Analysis is commonly used in E-Commerce stores to suggest products based on customer's past purchase patterns. This helps in cross selling once the customer starts a purchase. How do we reach the customer when they are not online, but are ready to do a purchase?
Using all that the data that is available from the E-Commerce platform (purchase history of various customers, stock details, seasonal purchase information, past campaign reports, etc), offline store details and from any other verticals of the same group company, we run analysis (Data Science) to determine what are the tastes and preferences of these customers, what kind of knowledge or help they seek, what are they interested in, what do they want to buy and how much do they want to pay for it. This analysis will also generate information related to the inventory – which products are sold better and in which regions, what needs to be stocked in advance, etc. Google Analytics system data will also help in understanding your customers' behavior on your website, and thus – what you should do or change in order to get more customers interested in your offer.
Customer Journey analysis with Predictive Marketing allows you to create more and more perfect recommendation systems which on the basis of this information indicate in time-specific products that customers are willing to buy. Implementation of such systems helps stores to be closer to the customer and thus drive their business.
Imagine you reaching out to the customer through a simple and customized SMS indicating about an offer on a product they will be interested. Each customer group can be targeted with specific message that will grab their attention. Doing so, not only increases the conversion rate, you are also avoiding the customer visiting the competitor platforms.
Use Case 2 – Retail and F&B Group
For this use case, let's take a large Group company (ABC Group) that has many retail stores, hypermarkets and restaurants. ABC group runs a centralized CRM application where information from all verticals are stored. Even though data are stored in a central location, brands do not utilize the entire data for analysis or marketing purpose. This leads to loss of opportunity for brands to improve in marketing communication and to reduce cost.
To better explain, let us consider a retail brand "ABC Watches", that sells wide ranges of Watches with their current digital marketing plan. This is only for explanation purpose and does not include any client or real time data.
Campaign Target:

Increase sales before Winter Vacation
Business Statistics:

Average sale per customer:

75 USD

Average profit per sale:

20%

Total customer base:

250,000 (available in CRM)

Marketing budget:

35,000 USD

SMS Marketing:

7000 USD

Email Marketing:

3000 USD

Digital Marketing:

15,000 USD

Social Campaigns:

10,000 USD

Expected Conversion in percentage (customers visiting online or offline store and purchasing):

SMS Marketing:

5 to 6% of the clicks

Email Marketing:

1 to 2% of the clicks

Digital Marketing:

2 to 3% of the clicks

Social Campaigns:

1 to 2% of the clicks

The reach (impressions, clicks, opens, etc)

| Platform | Total reach / Impressions | Open | Clicks * | Conversion ** |
| --- | --- | --- | --- | --- |
| SMS | 250,000 | 225,000 (90%) | 11,250 (5%) | 562 |
| Email | 250,000 | 37,500 (15%) | 3,750 (10%) | 37 |
| Digital | 1,500,000 | – | 20,000 (75 cents per click) | 400 |
| Social | 1,000,000 | – | 10,000 (1 USD per click) | 100 |

* Users clicking on a link in email or SMS or clicking on the Ad in Digital / Social platforms.
** Taking the lowest of the percentage from the expected conversion

Sale Details after campaign (using average sale calculation):

SMS Marketing:

42,150 USD

Email Marketing:

2,775 USD

Digital Marketing:

30,000 USD

Social Campaigns:

7,500 USD
Total Sale: 82,425 USD
Profit: 16,485 USD

Return on Investment (ROI):

-18,515 USD
ROI may change depending on the type of campaign that is done and if the conversion rates are considered on the higher side. This campaign can be considered as a successful campaign as when we look at the actual purchase and profit, the ROI can be positive as well. But is this the best we can do?
In Predictive Marketing scenario, what we propose is to utilize all other information from the ABC Group verticals – other customer behavior, purchase details, spending patterns, etc. There may be a lot of customers overlaps which will further help in analyzing. Team of Data Scientists will perform detailed analysis of these data and will provide a solution by grouping customers and providing reports on their behaviour. This data is then further fine tuned to predict how these customer groups will react in the near future. On a broad level, we can classify the groups into:
Group A: Customers with purchase pattern of luxury items for gifting. They are a good target to promote luxury brands and that has offers. Lets assume this group is around 15% of the customer base – 37,500
Group B: Customers who wants to spend for themselves or their family during Christmas and do not have any preference on the type of product. Lets assume this group is around 25% of the customer base – 62,500
Group C: Customers who have the tendency to buy average rated products and may shop around to see what will fit their budget to gift their loved ones. Lets assume this group is around 30% of the customer base – 75,000
Group D: Remaining all customers who are less likely to purchase during the season and those who do not react much to campaigns. These customers have their own preference in purchasing. The count will be 75,000
Once the grouping is done with the definitions, Predictive Marketing team can accordingly plan the marketing campaigns to target the groups with personalized messages or further grouping them to get better results. Keeping the budget the same, a detailed plan is laid out in targeting the customers. For example, Group A will get communication related to Branded watches and will be only targeted on select channels, whereas Group D will be completely ignored.
Using Data Science, Predictive Marketing and personalized communication (marketing), below is the expected results.
Target Customer base:

175,000 (Group D is avoided)
Expected Conversion in percentage (customers visiting online or offline store and purchasing):

SMS Marketing:

6 to 8% of the clicks

Email Marketing:

3 to 4% of the clicks

Digital Marketing:

4 to 5% of the clicks

Social Campaigns:

3 to 4% of the clicks

For Digital and Social, we will be using the customer group information and targeting similar matches using the Predictive Analysis provided by Google, Facebook and other Social platforms.

The reach:

| Platform | Total reach / Impressions | Open | Clicks | Conversion |
| --- | --- | --- | --- | --- |
| SMS | 175,000 | 166,250 (95%) | 24,937 (15%) | 1,496 |
| Email | 175,000 | 43,750 (25%) | 6,562 (15%) | 196 |
| Digital | 2,000,000 | – | 20,000 (75 cents per click) | 800 |
| Social | 1,500,000 | – | 10,000 (1 USD per click) | 300 |

Marketing budget used:

32,000 USD

SMS Marketing:

4,900 USD

Email Marketing:

2,100 USD

Digital Marketing:

15,000 USD

Social Campaigns:

10,000 USD

Budget is reduced as the reach for SMS and Email is less.

Sale Details after campaign (using average sale calculation):

SMS Marketing:

112,200 USD

Email Marketing:

14,700 USD

Digital Marketing:

60,000 USD

Social Campaigns:

22,500 USD
Total Sale: 209,400 USD
Profit: 41,880 USD

Return on Investment (ROI):

9,880 USD
The Result
Higher sales and hence ROI
Lower Marketing budget
Larger and new customer reach
Customer reacts better to personalized messages
Better data analysis for predicting purchases and managing inventory
Balance of 3000 USD from the marketing budget can be utilized in Digital or Social campaigns to get better reach
Use Case 3 – Predictive Analytics in Real Estate Industry
Predictive analytics is barely scratching the surface of the real estate sector. However, it is transforming the face of the real estate industry with the help of new and unconventional data sources that are emerging that helps to identify valuable patterns, benefiting both real estate professionals and consumers. In order to provide the right choices to customers based on their interest and budget requirements, it is important that the agents have accurate information about the properties, market conditions as well as customers.
Some of the benefits of implementing Predictive Analytics includes:
Enhancing the house hunting experience
Finding the best investment property
Calculating the value of home renovations
Planning new development sites
Usually customers do not approach an agent until they have done their research online to identify which property suits them. This is continued by checking on prices on different real estate portals. For an agent, if they can use the past and existing data to identify these customers and their requirements, all they have to do is approach them through a quick call or Customized SMS informing them about available properties. SMS Message can contain a personalized link that takes to a landing page, listing all the properties that matches customer requirements and budget. This will lead to a faster conversion than the traditional approach!
On the other hand, requirements of Investors and Commercial Real Estate (CRE) industry are different and their targest are:
Future of the property and its potential value
Is this the right time to invest
What would be the ROI in the next 5 years
Neighborhood status and track record
Using the vast amount of data that is available, including but not limited to customer and traffic information, heatmap analysis, property rental calculations, projected revenue charts, what other developments are planned in the specific areas, how did the specific areas perform in the last 5 years and how frequently does people move out, Real Estate Agencies can use to analyze and predict the advantage of investing in specific properties. This combined with the customer behavior will help in performing Predictive Marketing. This not only helps in increasing your sales, but also gives the customer in depth analysis on what they can expect by investing in the proposed properties, that leads to better customer satisfaction and retainment.
To Conclude
Unlike Paul the Octopus's predictions during World Cup Football, Predictive Marketing is a scientific approach, using proven methods, logics, AI and programming, and Data Science to reach more accurate predictions of customer behavior.
Can you alter a consumer's decision? We can.
Every consumer goes through multiple touch points of influence.  As consumers interact with these touch points, Precise Communications uses the right message and tools at the right time to influence and persuade, resulting in real engagement between Brands and their Clients. For a better Marketing strategy and results, talk to one of our representatives.
Recent Articles