The trend for any Entrepreneurs these days is to launch their products and services through E-Commerce portals to end consumers. The majority of them are marketplaces, while others are niche services or specific products catering to large audiences online. Unlike a decade earlier, there are many plug-and-play (ready to use) platforms to launch E-Commerce portals that include Shopify, nopCommerce, Woo-commerce, etc. These platforms allow businesses to launch their products and services in a short time with ease. They are well suited for a standard E-Commerce service and allows to add multiple other services, in the form of Plugins, like SMS, to their existing services.
Shopify is a common SaaS (Service as a Solution) based E-Commerce platform that allows you to easily set up your E-Commerce portal by selecting a preferred theme, setting up the inventory, and adding the payment options. To enhance the experience of the E-Store, Shopify has created an App Store where the business can choose from a wide variety of additional features to their E-Store. The Shopify App Store is a collection of free and premium plugins that extend the functionality of your online store.
Shopify platform provides integration of SMS service at various stages of the customer journey – Registration, shopping, left cart, order cancellation, and many more. Shopify SMS service is available to limited services and in order to utilize SMS for different triggers, the business can utilize one of the SMS plugins available. Precise Communications Shopify Plugin will provide you the ability to add these SMS features to your E-Commerce platform with minimum steps. All you will need is an SMS account.
Precise Shopify SMS Plugin will provide the below integration features:
OTP verification during Registration
Order Confirmation SMS
Order Cancellation SMS
Order Delivery SMS
Marketing (Promotional) SMS
Apart from the integration of the SMS plugin, using Precise Communications Messaging service will allow you to also generate various types of reports and analytics that will further help in fine tuning your marketing communications.
SMS Reports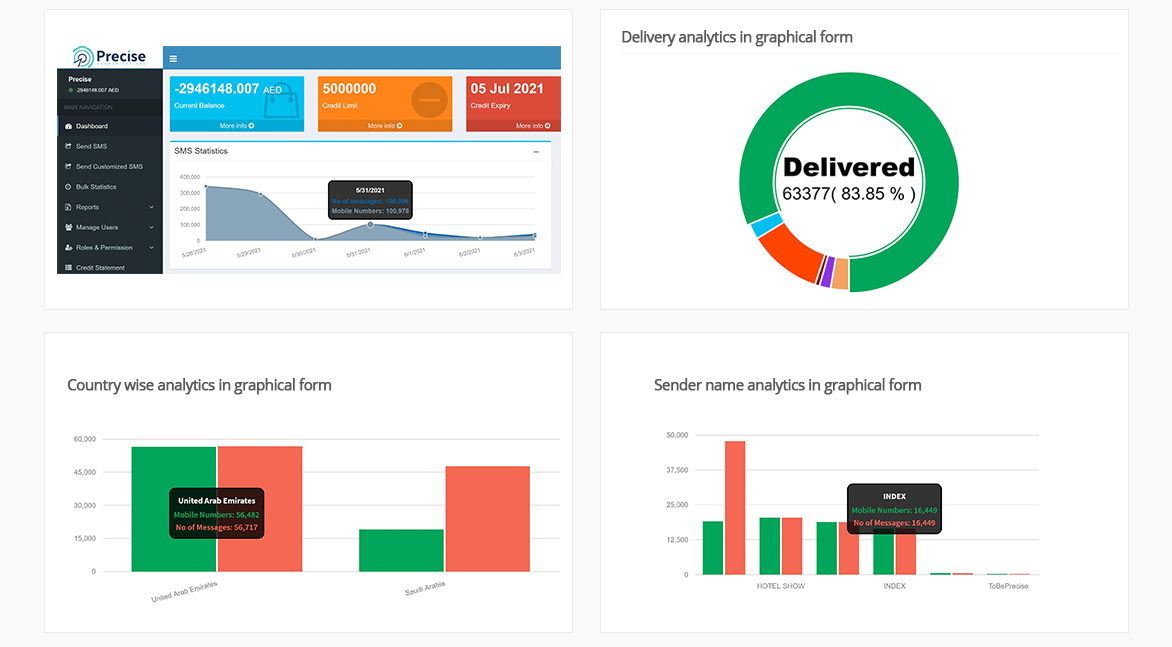 By utilizing the same account credentials a wide variety of reports will be available on the SMS portal. Reports include:
Detailed reports, including real-time delivery details
Sender name wise Analytics
Country wise Analytics
Delivery based Analytics
You can also carry out Bulk SMS broadcasts from the portal and utilize other value added services like Bright Links and Customizations.
To know more about our services or to avail the Shopify SMS Plugin, reach out to one of our team members. You can also visit the Shopify App Store to download the SMS plugin directly.
Recent Articles